Regular price
Sale price
$22.00
Unit price
per
Sale
Sold out
Made near Lyon, the Apple Cinnamon mist home fragrance will perfume all your spaces. It emanates from this ambient mist, a fruity and spicy fragrance with a strong character.
Olfactory Pyramid

Olactive notes: Spicy, Fruity
Top notes: Apple, Orange, Lemon
Heart notes: Cinnamon
Base Notes: Musk
Raw materials

Organic wheat alcohol certified COSMOS by Ecocert® 🇫🇷
Perfume from Grasse without CMR or Phthalate 🇫🇷
Imprim'Vert® certified label 🇫🇷
Recyclable Spray 🇪🇸
Homemade

This scented mist is handmade by me and with ♥︎ in the Lyon region
Delivery and Return
using advice
Paiement sécurisé

Livraison offerte dès 50€ d'achat

Une question ? Bonjour@atelierlouis.fr
View full details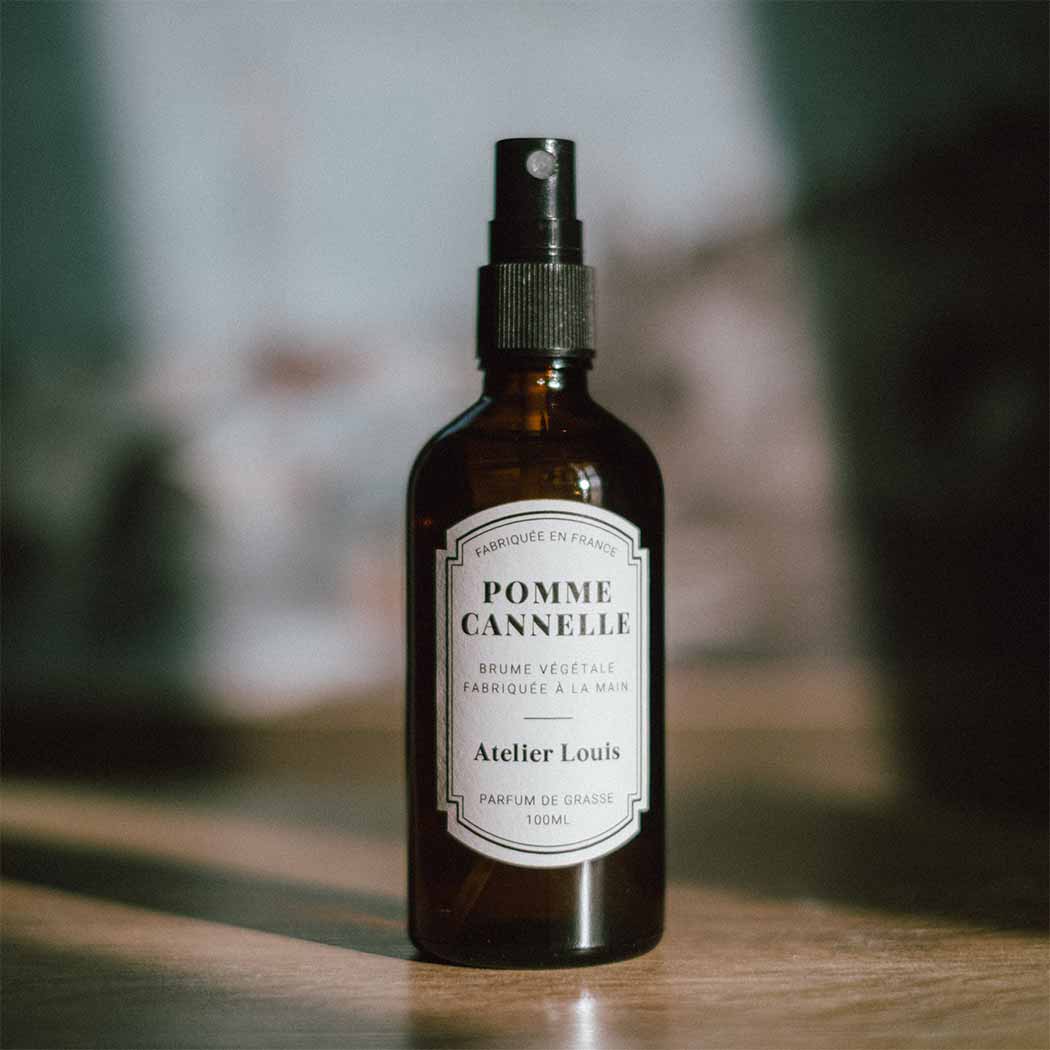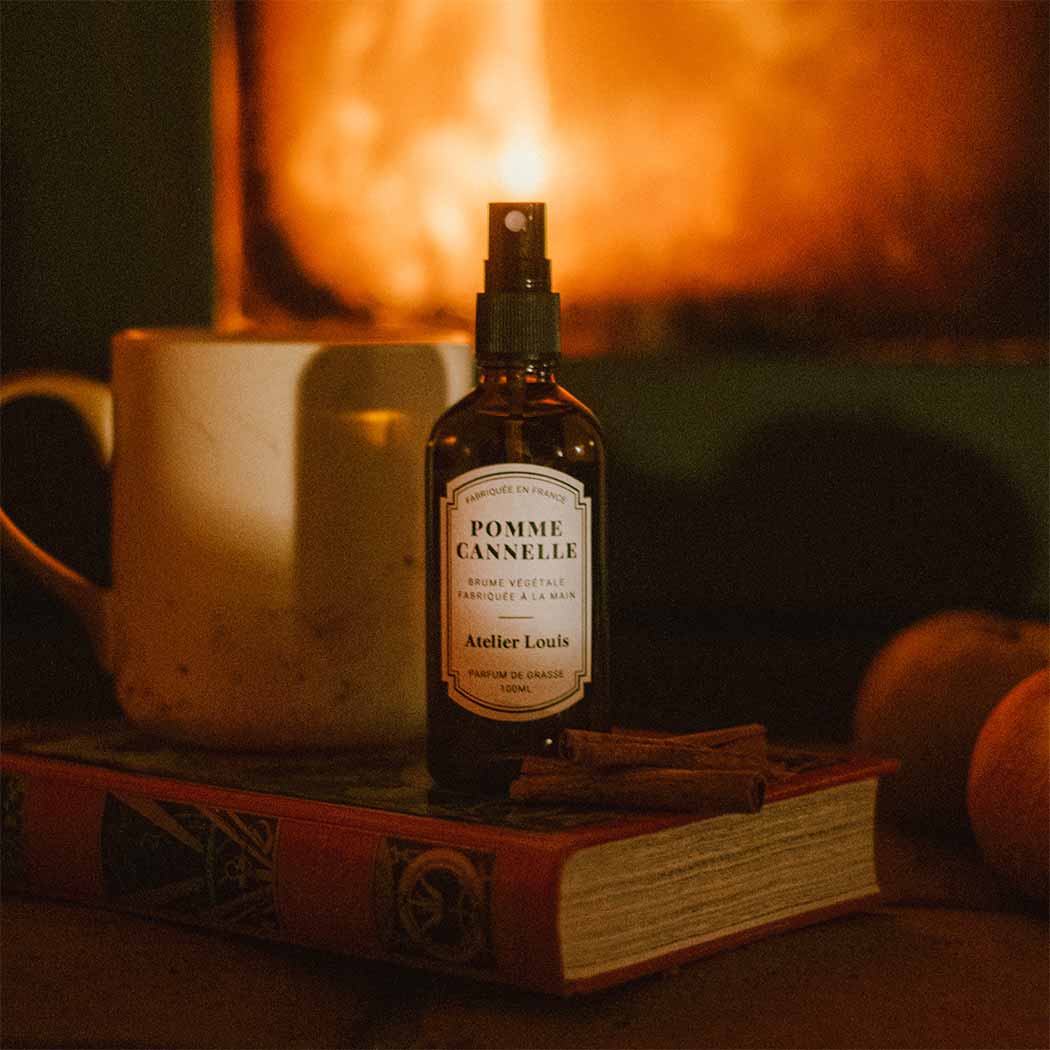 Delivery and Return
Everything you need to know about delivery
Which carriers do you work with?
I work with Colissimo for home delivery and Mondial Relay for delivery to relay points.
What are your delivery rates in mainland France?
| | | | | |
| --- | --- | --- | --- | --- |
| Carrier | Kind | 1€ - 39.99€ | 40€ - 69.99€ | 70€ and more |
| Mondial Relay | Delivery to relay point | 3.90€ | Offered | Offered |
| Colissimo | Home delivery | 6.90€ | 6.90€ | Offered |
What are your delivery rates to EU, Switzerland and UK?
| | | | | |
| --- | --- | --- | --- | --- |
| Carrier | Kind | 0 - 0.5 kg | 0.5 - 1kg | 1 - 2 kg |
| International Colissimo | Home delivery | 13€ | 16€ | 18€ |
What are your delivery rates for the rest of the world? (Canada, USA etc...)
| | | | |
| --- | --- | --- | --- |
| Carrier | Kind | 0 - 1 kg | 1 - 2 kg |
| International Colissimo | Home delivery | 23€ | 26€ |
Find out everything about returns
You have a legal withdrawal period of 14 days to cancel your order after receipt of it, for all orders that are not "made to measure" or "personalized".
Items must be returned in their original packaging in a condition allowing their re-marketing. You must ensure that the items arrive undamaged. Any merchandise arriving damaged, chipped or broken cannot be refunded.
The costs of returning the products are your responsibility.
Reimbursement of products will only be possible after actual receipt of the items on our premises.
Please send your return request by email to bonjour@atelierlouis.fr
How long will it take for me to receive my order?
Your order will be delivered to you within 2 to 5 working days .
These times include the order processing time, manufacturing time and the delivery time by our carriers Colissimo and Mondial Relay.
Orders are hand-picked in chronological order.

An email will be sent to you as soon as your package is delivered to the carrier and you will be able to follow the delivery of your package using the tracking link.
How to choose your delivery option?
After entering the information concerning your delivery address, the site www.atelierlouis.fr will ask you to choose your delivery options.
Delivery to a Relay Point: Your package is kept for 10 working days before being sent back to us.
Home delivery: Your package will be delivered without signature to your mailbox.
I cannot collect my package received at a relay or agency: can another person do it for me?
It is entirely possible to have a package collected from a relay point by another person. The latter must bring their own identity document (identity card, passport, driving license, etc.) as well as that of the recipient of the package (originals required).
If I am absent when the delivery person arrives, what happens?
A notice is left in your mailbox. This form shows the date of passage and the passage notice number.
You can get there yourself:
Go to the address indicated on the notice of proceedings: you can collect your package there on the date indicated, upon presentation of the notice and proof of identity.
You can ask one of your loved ones to collect it for you:
Indicate on the back of the notice the name of a person close to you, who can come on your behalf and collect your package from the post office. He must bring the notice of proceedings and the identity documents of the recipient and the person designated on the power of attorney.
Your item will be kept for 15 days at the post office or chosen collection point. If you have not had the opportunity to collect it within this period, it will be returned to the sender.
If you are not available to collect your item from the post office, you can give power of attorney to someone close to you so that they can do it for you.
I still have not received my package even though the delivery time has passed, what should I do?
You can access the delivery tracking of your current order at any time in your Connection area, via the My orders section. Simply go to this section and click on the reference of your order to access the details. A final click on the tracking link for your order will allow you to follow the status of your delivery on our carrier's website. You will know in real time where your delivery is.
If you think your package is lost, do not hesitate to contact our customer service:
By email bonjour@atelierlouis.fr
Thanks to our Contact Form .
What to do if my package is damaged ?
When receiving the package, it is important to check that it has not suffered any damage or shocks that could damage the products. We advise you to open the boxes in the presence of the delivery person. Any sound of broken glass should alert you because we prepare the packages carefully so that the products do not touch each other.
In the event of any problems noted upon delivery, we invite you to follow this procedure:
Refuse the package which will then be directly returned to www.atelierlouis.fr
Make an observation regarding the deteriorated condition of the carton on the delivery slip
Report the complaint to the www.atelierlouis.fr complaints service by e-mail: bonjour@atelierlouis.fr
Send photo(s) if necessary (we recommend using the following formats: ZIP, RAR or JPG)
Once your complaint is made, we will process your request quickly
If, however, you notice after delivery that one or more products are damaged/defective and/or that items are missing, make a complaint to our complaints department within 3 working days following delivery. We invite you to follow the following procedure:
Make an observation regarding the deteriorated condition of the carton on the delivery slip
Report the complaint to the www.atelierlouis.fr complaints service by e-mail: bonjour@atelierlouis.fr
Send photo(s) if necessary (we recommend using the following formats: ZIP, RAR or JPG)
Once we receive your photos, we will process your request quickly and contact you again to explain what to do.
Where is the nearest agency or relay to my home or workplace?
Simply do a search from a postal code or using geolocation on the website of the carrier Mondial Relay
Craftsman Advice
You've unpacked your candle and your mist, now it's up to you to take care of it. Don't worry, I will support you in this perilous mission.
Here are my tips so that the combustion of the candle and the diffusion of the perfume are optimal.
In the workshop, I only use rapeseed wax from Europe for the candles, perfumes from Grasse without CMR or Phthalate and braided cotton wicks to guarantee smooth combustion and optimal olfactory rendering. Regarding the mists, I only use organic wheat alcohol certified COSMOS by Ecocert® as well as perfumes from Grasse without CMR or Phthalate.
Scented candle

Vegetal mist

01. Find the perfect spot

Place your candle on a flat surface, away from drafts and direct sunlight. To best diffuse the fragrance, find a central place for it in your room.

02. Light your candle

I strongly advise you to light your candle with a match for two reasons. The first, you will be much more precise and you will avoid blackening the glass and accidentally burning the wax.

03. Take your time

Leave your candle burning for periods of one to two hours. This will prevent the formation of a well around the wick and allow your candle to melt evenly. For the first combustion, I advise you to let your scented candle burn for two hours.

04. Extinguish your scented candle

To extinguish your candle, I advise you to use a snuffer or gently blow out the flame. Wait for the wax to cool and harden to reseal your candle.

Do not use the lid to extinguish your candle. This could damage the wax + perfume mixture and the lid. By creating a closed area, you allow the end-of-combustion smoke to inadvertently scent the still liquid wax.

05. Take care of the wick

Before each burn, cut your wick to a length of about 5 to 10 millimeters. This allows the candle to burn well and thus avoid black smoke. Also check that the wick remains centered and vertical during the various ignitions.

01. Do a test first

Test on an unimportant fabric before spraying on your curtain or sofa, the mist may leave a stain. Spray at least 50 cm from surfaces (textiles, objects, walls etc...).

02. Two sprays are enough

Two sprays are enough to perfume a room of 10m2.

03. Optimal experience

For the best experience, spray 2-3 times a day. Ventilate your room before each new spray.
And if, despite these tips, questions remain, you can let us know at bonjour@atelierlouis.fr
Organic wheat alcohol

An organic wheat alcohol made in the south of France. A French alcohol, natural and vegetable for a better hold of the fragrances.

Perfume of Grasse

All the perfumes used are manufactured in Grasse according to strict specifications meeting European IFRA standards. They are CMR and phthalate free
Mists made by hand in France.
Each mist is carefully handcrafted in my workshop in Soucieu-en-jarrest, a stone's throw from the beautiful city of Lyon.